Points are awarded for using less energy and reducing CO2 emissions during peak time equivents. The more energy you save, the more points you will earn. Points can be redeemed for rewards or vouchers in the equiwatt in-app gift store.
When it comes to earning points with equiwatt, there are a couple of ways to do it, Smart and Manual control!
The below table gives you an idea of how many points you could earn each month by participating via Smart and Manual Control.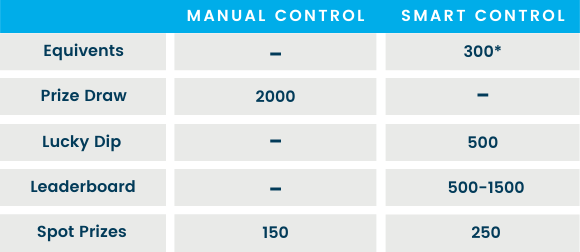 *NOTE: The monthly points earned from smart control equivents are based on a user connecting their smart plug to a fridge/freezer and participating in 90% of events during the month.
Smart Control
The simplest way to earn points is to connect any household appliance that uses a 3-pin plug to a TP-Link Smart Plug to automate participation in equivents via Smart Control.
This means that every time an equivent occurs, your connected appliance will automatically switch off and on. Depending on how much peak time energy and CO2 your appliance(s) has saved by participating in the equivent, you will be awarded points.
So, the more energy you save, the more points you will earn! You will also earn more points for connecting additional appliances!
Points are allocated on a constantly changing scale dependent on the level of appliance usage and market conditions.
Appliances that use more power will have the biggest impact!
TIP: You can find out which appliances we recommend connecting and their average equivent earnings here!
Manual Control
As well as earning points via Smart Control, you can also earn bonus points by registering appliances to take part in equivents via Manual Control.
Unlike, Smart Control, you will not earn points from every equivent with Manual Control. However, each time you participate in an equivent via Manual Control, you will earn one entry into our Monthly Manual Control Prize draw.
The more equivents you participate in via Manual Control, the more entries you will receive for the prize draw and the better your chances of winning!
You can find out more about our Manual Control Prize draw and other monthly prizes here.
Own an Electric Vehicle?
Did you know that you can now earn points for connecting your EV to equiwatt? Click here to find out more about earning points with your EV.