The Prize Draw gives equiwatt users who manually participate in equivents the chance to earn 2000 bonus points each month!
What is the Prize Draw?
The Prize Draw enables equiwatt users to earn 2000 bonus points (worth £20) every month for participating in equivents by manually switching their appliances off and on.
At the end of every month, the prize draw randomly draws a winner from all entries that have been awarded to appliances for manually participating in equivents.
How do I enter the Prize Draw?
To enter yourself into the monthly Prize Draw to win 2,000 bonus points (worth £20), you will need to register your appliance's participation in the equiwatt app.
PLEASE NOTE: Every manual participation in an equivent (regardless of the number and type of appliances switched off and registered) will reward a user with 1 (one) entry into the monthly prize draw.
For example:
Manual participation in 1 equivent = 1 entry
Manual Participation In 6 equivents = 6 entries
The prize draw entries leaderboard resets to zero at the end of every month.
Full terms and conditions can be found here for the equiwatt monthly prizes.
How do I register my appliance's participation?
When you receive a notification from the equiwatt app that an equivent has started, simply tap on the notification and it will take you to the equivent participation page where you will be able to select the manual appliances you have switched off.
Alternatively, you can register your manual appliances participation in the equivent by logging into your equiwatt account.
Once logged in, go to the 'Home' page (house icon) and select the manual control widget in the top left-hand corner of the screen.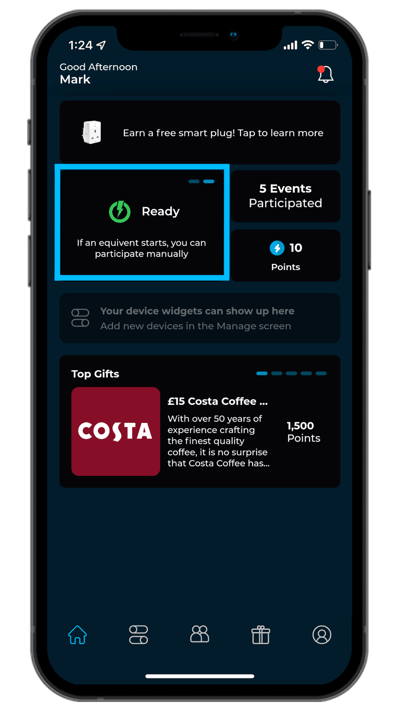 Select the appliance(s) that you want to participate in the equivent (the box will have a blue border around them once selected) and then press the 'Save my selections' button at the bottom of the box to confirm your selection and let us know what you have switched off.
You should now see a message confirming you have registered your appliance(s) participation and reminding you to switch your appliance back on when the equivent has come to an end.
Switch your appliance(s) back on when you get another notification to let you know that the equivent has ended.
After the equivent, you will receive a notification providing a summary of your energy and CO2 savings as well as any points that you have earned from smart appliances and confirmation of your manual control prize draw entry.
If you have a smart meter connected to your equiwatt account and have successfully beaten your forecast, your points will be added to your account 24-48 hours after the equivent along with a breakdown of the energy and CO2 you have helped to save.