Read on to find out how you can earn points by connecting your smart meter to equiwatt and manually participating in equivents.
You will need to have a compatible smart meter connected to the equiwatt app in order to earn points with it.
Is my smart meter compatible?
If your meter has been installed in the last few years, it is highly likely that it will be compatible with equiwatt.
If your meter was installed before 2018, it may not be compatible with equiwatt. The best way to find out if your meter is compatible is to:
Download the equiwatt app
Create an account
Add your smart meter details
equiwatt will attempt to connect to it.
If we can't connect to your smart meter then we can manually verify it for you. Simply send a copy of your latest energy bill to us at hello@equiwatt.com
TIP: You can find a step-by-step guide on how to connect your smart meter here.
How does it work?
We will calculate the amount of electricity you would normally use over the 1 hour that the equivent is happening, this is your forecast.
You will then earn points based on how much you reduce your electricity usage during the equivent against your forecast.
What do I have to do?
When an equivent starts, you will receive a notification:
Switch off running electric appliances and avoid turning high usage appliances on.
Check your forecast to make sure you know what you have to beat and that you're going below it. TIP: Check your In-Home Display (IHD) unit to make sure that you are going below your forecast.
Go to the equiwatt app and log your manual participation
TIP: Please note you will only earn points if you indicate your participation in the app. You can find a guide on how to do that here.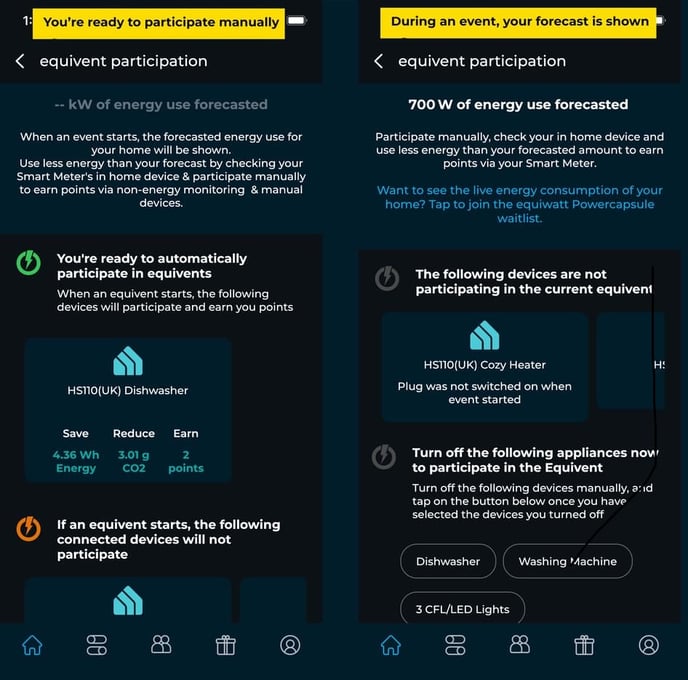 When an equivent ends, you will receive a notification:
Switch the appliances/devices you need back on.
Your points for participating in the event manually will appear within 24-48 hours, and you will earn a prize draw entry for our monthly prize draw to earn 2000 points (worth £20).