May 25, 2021
Get rewarded for growing your community!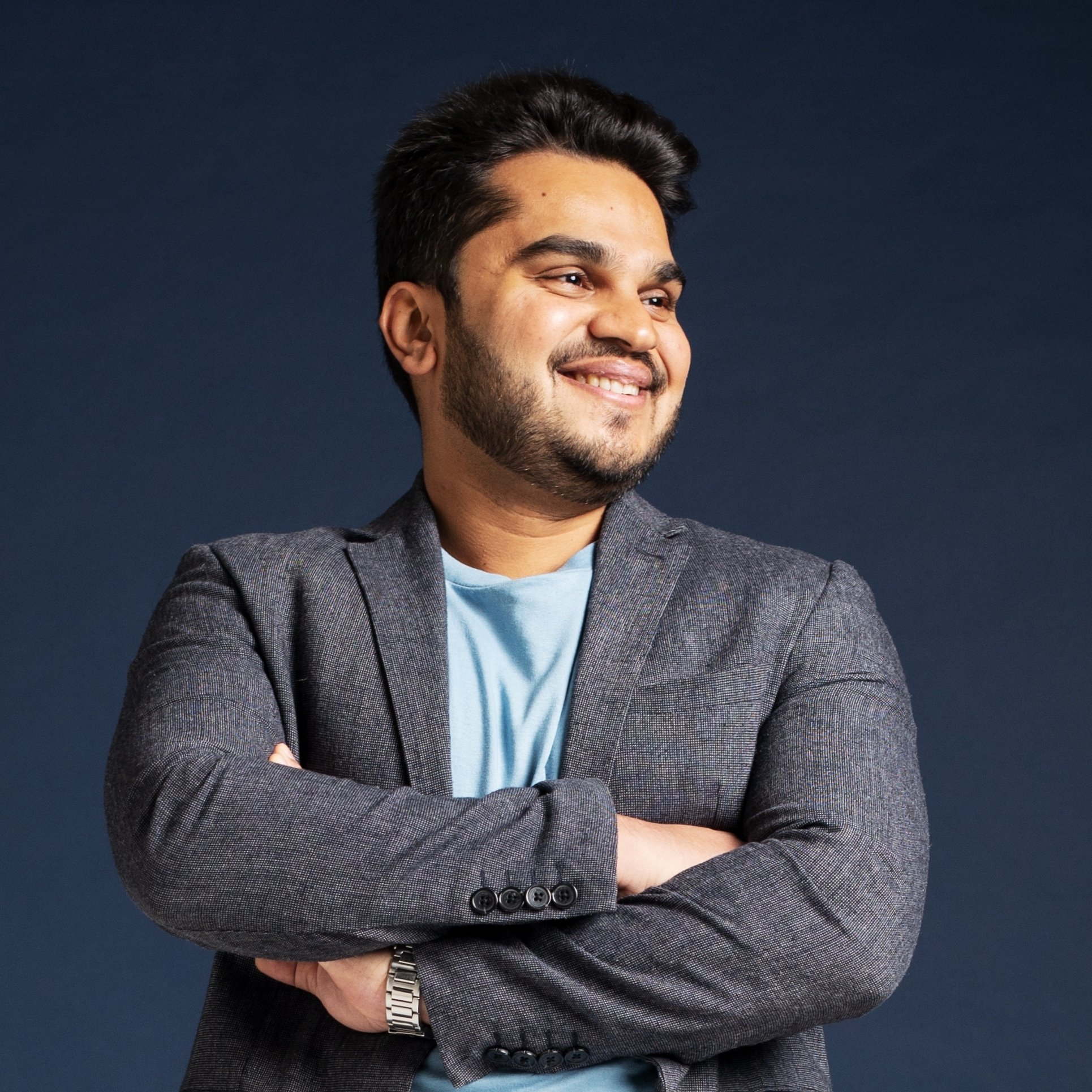 Johnson Fernandes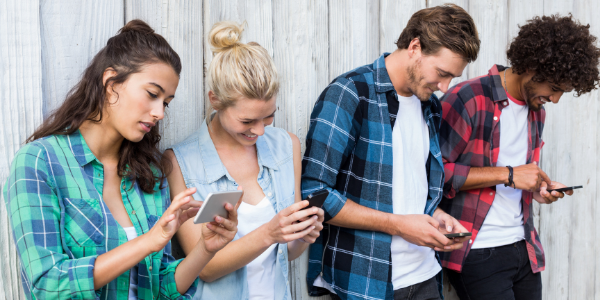 Here at Equiwatt, we are passionate about building a community of energy savers. Not only does growing the community mean that we will be able to help more households like yours save peak time energy and reduce their carbon footprint, but it also means that we can offer better rewards to every community member too!
However, we know that we cannot grow the community by ourselves. In fact, nobody will be able to convince your friends, family or colleagues about the benefits of Equiwatt quite like you! That is why we are excited to launch our brand new referral scheme.
How does it work?
Whether you are a Smart Control or Manual Control user, you can earn 1500 bonus points by simply inviting 5 friends to sign up to Equiwatt using your unique 4 digit referral code. Once they have all signed up and connected to a compatible Smart Plug, you will be able to claim your 1500 bonus points. Simple as that!
Each of your friends that join Equiwatt and connect a Smart Plug will also receive 250 bonus points, so everyone wins!
How do I earn my 1500 bonus points?
To start inviting your friends and family to join the Equiwatt community, all you need to do is simply open the Equiwatt app on your phone and visit the community page where you will see the below screen.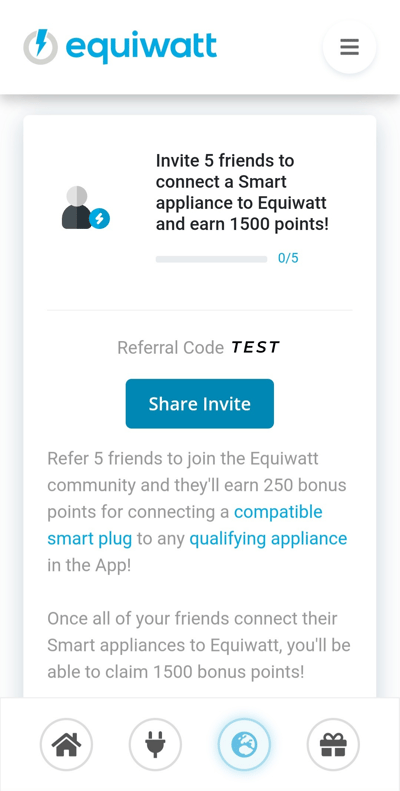 Then you just need to select the 'Share Invite' button and follow the instructions to share your referral link and unique four-digit referral code with your friends via your messaging platform of choice.
Once one of your friends has signed up to Equiwatt using your referral code and connected a Smart Plug, you will receive a notification on your phone and it will be logged in the progress bar in the community tab.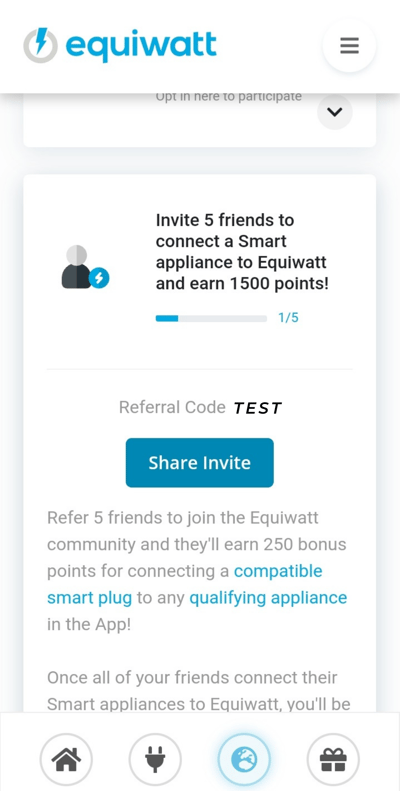 When five of your friends have signed up with your code and connected a Smart Plug to Equiwatt the progress bar in the community tab will turn blue and the 'Share Invite' button will now say 'Claim Reward'.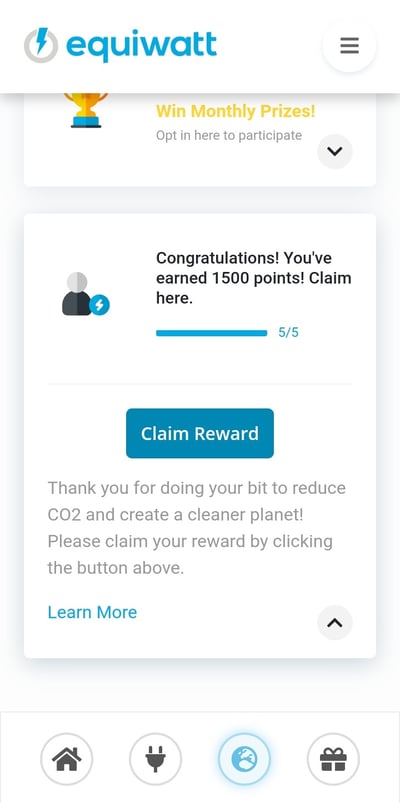 All you need to do to claim your 1500 points is to tap the button and follow the on-screen instructions. After running a few checks, we will then add your points to your account for you to redeem as you wish!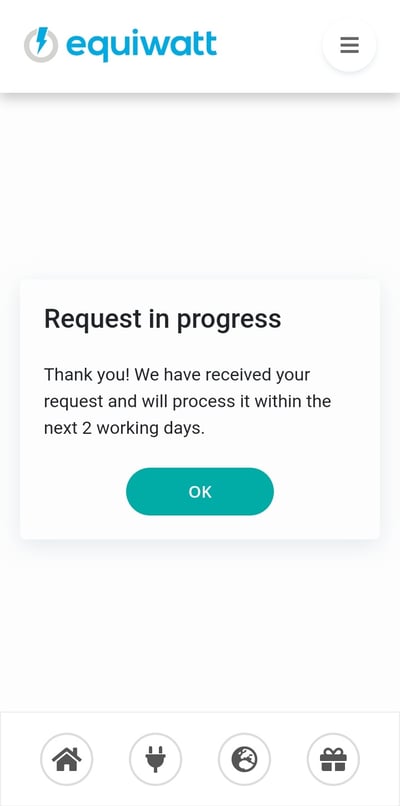 How do my friends get rewarded?
When your friends click on your referral link, they will be taken to the Equiwatt website, where they will be able to download the Equiwatt app for either Android or iOS.
Once they have installed the app they simply need to follow the on-screen instructions and enter your unique 4 digit referral code when prompted.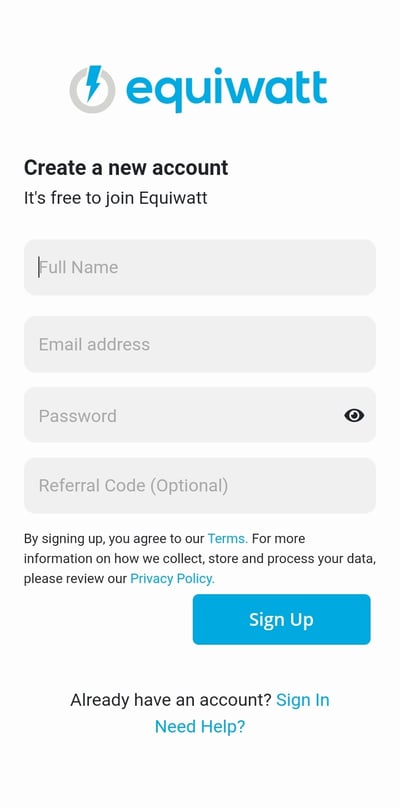 Once logged in all they need to do is visit the 'Appliances' tab and select 'Connect TP-Link Smart Plug' to connect their Smart Plug to the Equiwatt app. After following the onscreen instructions they will be awarded their 250 bonus points - simple as that!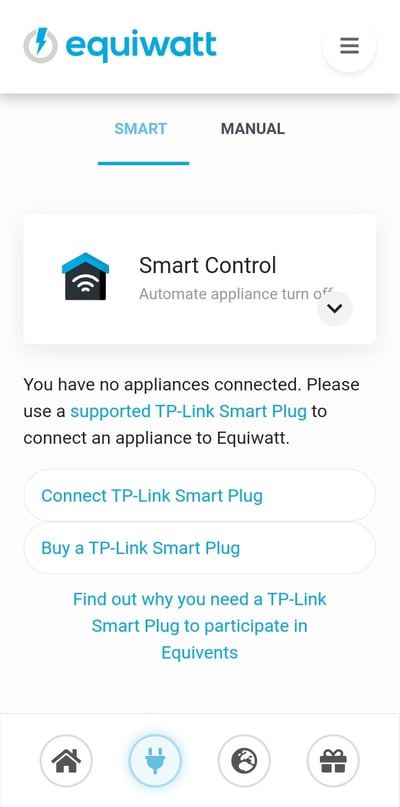 So, what are you waiting for? Share Equiwatt with your friends, family, colleagues or anyone that you think would like to earn a few rewards and prizes for doing something good!