Follow this guide to add your TP-Link Smart Plug to your equiwatt account to automatically earn points for shifting energy and saving CO2!
Once you have set up your Smart Plug in the Kasa Smart App and ensured that it is plugged in and connected to your home WiFi network, you are ready to add it to your equiwatt account!
PLEASE NOTE: Only the HS110 & KP115 Energy Monitoring smart plugs are compatible with the equiwatt app.
If you have other makes or models, these cannot currently be connected to automate participation via your Kasa account.
However, you may be able to automate your plug's participation in equivents via our IFTTT integration. Learn more here
Connect your TP-Link Smart Plug to equiwatt
1) Log in to your equiwatt account via the equiwatt app.
2) Select the 'Manage' tab by selecting the toggle icon.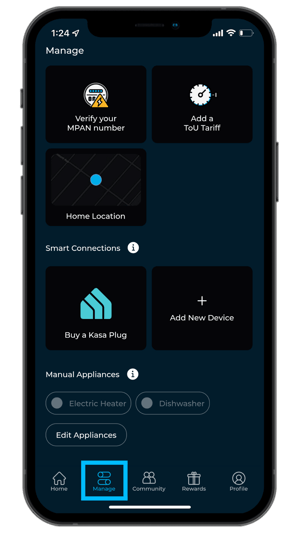 3) Under the 'Smart Connections' widget, select '+ Add New Device' and 'Add Kasa Plug'.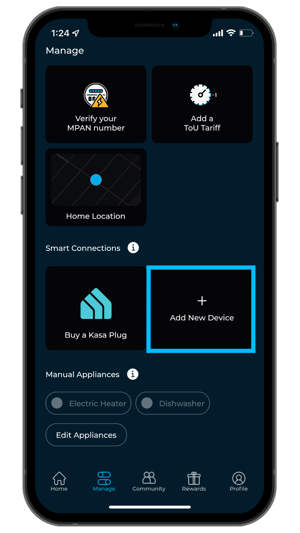 4) After you have read through how your Kasa plugs will participate in equivents, select the blue 'Connect' button.
5) Enter the email address and password for your Kasa account in the boxes provided and then select 'Continue'.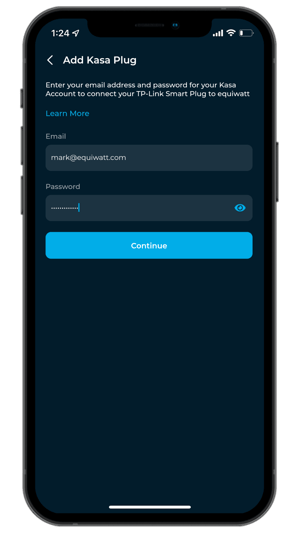 PLEASE NOTE: If you see the below message when trying to connect your Kasa account, please make sure you have switched off 2FA (two-factor authentication) in the Kasa app and then try again.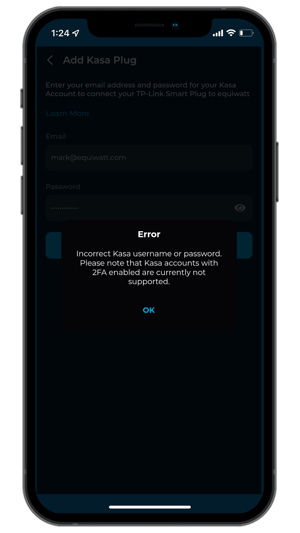 To switch 2FA off please follow the below steps:
1) From the Kasa APP > Tap 'Me' (person icon) in the bottom right corner of the screen
2) Tap View account (appears in green underneath your name and email)
3) Select Login Security, then tap the Two-Step Verification ON/OFF toggle
6) Your Kasa account has now been successfully linked to equiwatt.
7) You can now select how long your Smart Plug and the connected appliance participate in equivents as well as if they participate at all.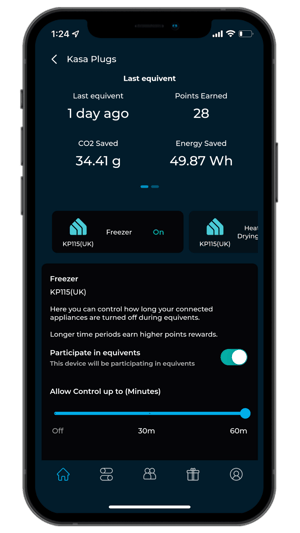 8) Once you have made your selection, press the 'arrow' button at the top left of the page to return to the home screen.
9) Your Smart Plug(s) will now appear under the 'Kasa Plugs' widget on the home screen of the app.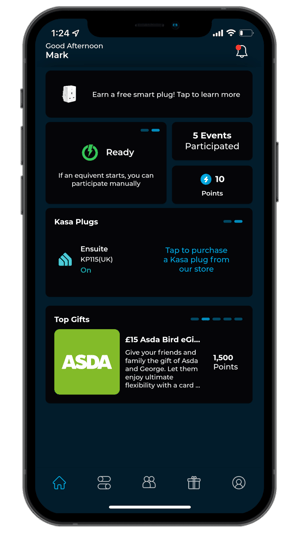 PLEASE NOTE: When you add any additional compatible TP-Link smart plugs to your Kasa account, it will automatically sync with equiwatt and add the new plug to your account.
Click here
to find out how to set up your Kasa account and connect your first Smart Plug.