The leaderboard enables our users to compete against each other to earn bonus points for participating in equivents each month.
By opting in to participate in our monthly leaderboard, users have the chance to win 1500, 1000 and 500 bonus points for finishing in first, second or third place on our leaderboard respectively.
Our leaderboard ranks users according to how many points they have been awarded for participating in equivents either manually via their smart meters or automatically with their compatible electric vehicles (EVs) or appliances that are connected to the app via compatible smart plugs.
equivent Points are calculated based on the amount of peak energy your appliance/EV has saved during an equivent.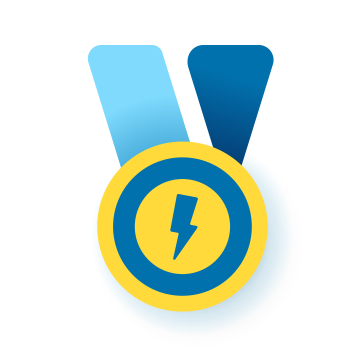 To maximise your points each month and participate in the leaderboard, simply connect a compatible smart meter and beat your forecast by manually switching off appliances during an equivent.
Alternatively, connect a smart plug to a power-hungry appliance or connect your EV and opt-in to take part via the app.
Want to boost your points and move up the leaderboard? Make sure that you have switched off the most energy-consuming appliances either manually or with a connected smart plug to earn more points from each equivent! As EVs require a large amount of energy to charge, connecting yours to the app is another easy way to boost your points earnings!
PLEASE NOTE: You will need a compatible smart meter with half-hourly readings to be able to earn points for taking part in equivents.
Each month, the user that tops the table will win 1500 points (worth £15) redeemable in our gift store. The users that finish in second and third place will win 1000 points (worth £10) and 500 points (worth £5) respectively.
The leaderboard resets to zero at the end of every month and you can track your long-term points earnings on the home page of the equiwatt app.
Full terms and conditions can be found here for the equiwatt monthly prizes.