Yes, even without a smart meter you can still take part in our peak-time energy-saving events & earn rewards by taking part in our monthly prize draw
Although you will need a smart meter to be able to earn points every time you switch off appliances during equivents, you can still participate and get rewarded without one. Read on to find out how.
Verify your MPAN
If you do not currently have a smart meter in your home, the first step to being able to enter our monthly prize draw is to ask us to verify your MPAN (Meter Point Administration Number) for you.
To do this, send a copy of your most recent electricity bill to us via email at hello@equiwatt.com and we will manually verify your MPAN for you.
You don't need to send us your complete bill but simply the section that includes your name, address and MPAN.
TIP: Your Meter Point Administration Number (MPAN) is a unique number for the electricity meter on your property and is sometimes called known as your Electricity Supply Number.
Your MPAN can be found on your electricity bill (it is the number highlighted in white in the image below) or alternatively, you can phone your electricity supplier and they will be able to give you your MPAN.

Enter our monthly prize draw
Once you have verified your MPAN, you will be able to earn an entry to our Monthly Prize Draw to win £20 worth of points every time you indicate you are taking part in an equivent.
To earn an entry to our monthly prize draw you will need to follow the steps below once you receive a notification to let you know that an equivent has started:
1) Open the app and select the manual participation widget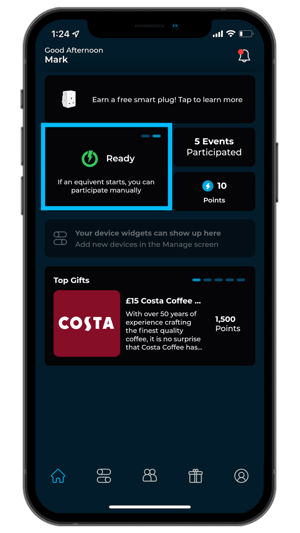 2) Select which appliances you have switched off and select the 'I've turned these appliances off' button to confirm your entry into the manual prize draw.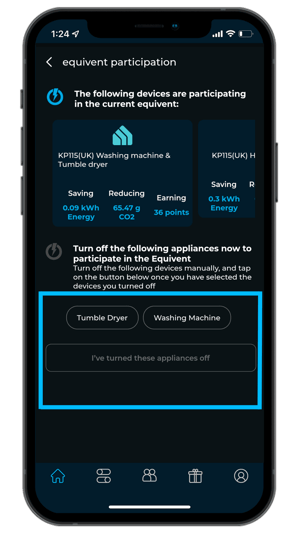 3) That is it, you have earned an entry to the monthly prize draw! Now all you need to do now is wait until the start of the next month to find out if you won or not.