By participating in equivents, you will earn points based on how much energy and CO2 you save. These points can be redeemed in the in-app Gift Store on a range of rewards.
The equiwatt Gift Store features an ever-growing range of rewards to redeem with your equiwatt points. From eGift cards to support the amazing work of organisations such as GlobalGiving and the World Land Trust to vouchers for retailers such as John Lewis, Amazon, The Body Shop and Finisterre.
You can even use your points to redeem smart technology such as a TP-Link energy monitoring Smart Plug to help you earn even more points every month with equiwatt!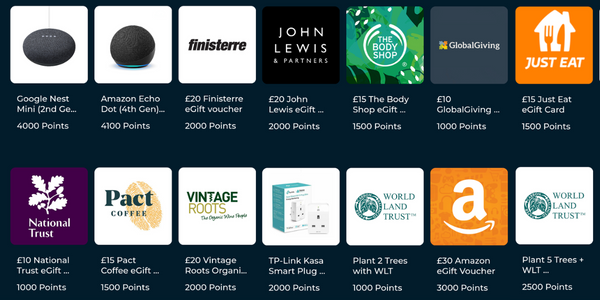 NOTE: This image provides an example of some of the rewards on offer in the equiwatt in-app Gift Store. Please visit the app to see our most up to date rewards offerings