Before you start linking equiwatt to your smart meter please read on.
To prove that you live at the address registered to your smart meter, you'll need one of the following things:
Option 1) A payment card registered to the address where the smart meter is located
Option 2) The In-Home Display that was provided during the installation of your smart meter (see the image below for an example of what an IHD looks like).
Option 3) Documentation that proves you live at the address that your smart meter is registered to. e.g UK Driving License, Utility Bill, UK Passport etc.
It is up to you to choose the method you prefer to verify your home address but the payment card method is the quickest and easiest way to get your smart meter setup.
PLEASE NOTE: We use your card to confirm that the address registered with your card matches the address of your smart meter.
We will take a payment of 30p which will be immediately refunded once your address has been verified.
Your card details are not stored by us and the verification is done via Stripe.
If your bank card is not registered at the same address as your smart meter, or you would prefer not to use a bank card, please verify your address using your smart meter's In-Home Display (IHD) or by sending proof of address to us via email.
In case you don't have a payment card registered at the address or the authentication process is unsuccessful, you'll need access to your smart meter's In-Home Display - the small electronic display (see image below) given to you during the installation of your smart meter (see image below) OR you will need to send proof of address to us via email.
Even if your IHD display isn't functional, don't worry as you can register your meter by entering a code printed on the side.
Example of an In-Home Display (IHD):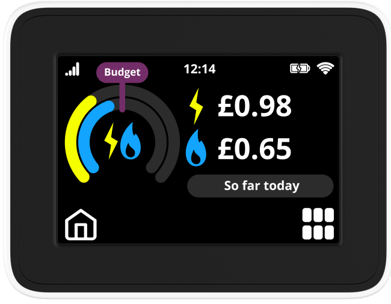 If you do not have access to your In-Home Display (IHD) (Option 2) or do not want to verify your address via the payment card method (Option 1) you can send us proof of address via the app and we can manually verify your address.
In order for us to verify your address, you will need to provide us with a document that shows your name and address. The easiest way to do this is to upload a copy of your most recent energy bill. However, other acceptable documents include:
Current UK driving licence.
Current signed passport.
Utility bill (gas, satellite television, landline phone bill) issued within the last 3 months.
Tenancy agreement for the current year.
Local authority council tax bill for the current council tax year.