Please follow the instructions below to set up and add your chosen manual appliance(s):
Select your the Appliance(s) you want to manually switch off
When you first sign up to equiwatt you will be automatically taken through a few steps to set up your account.
One of these steps allows you to select the appliances that you have in your home, including the appliances that you would like to manually participate in equivents.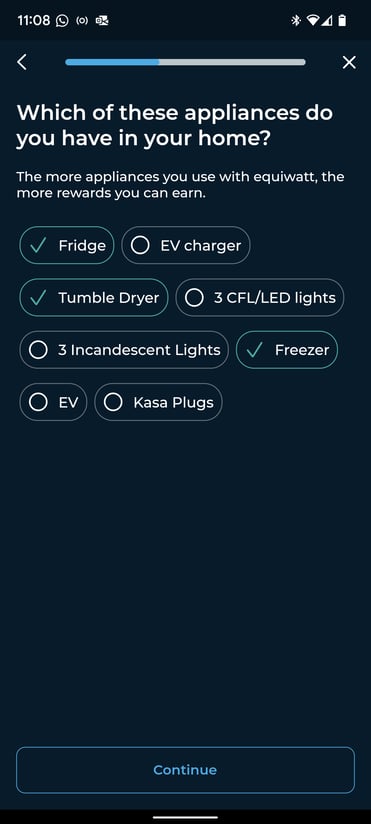 If you miss this step during the sign-up process or want to edit your manual participation appliances then follow the steps below.
Log in to your equiwatt via the equiwatt app.
Select the 'Manage' tab by pressing the 'toggle' icon at the bottom of the page.
Scroll down the page until you see the 'Manual Appliances' widget.
Select 'Add Appliances' if you haven't previously selected any appliances or 'Edit Appliances' if you wish to update your selection.
Choose which appliances you wish to take part in equivents manually by selecting them (a green tick and box will appear when your chosen appliance has been selected).
Once you have selected all of the appliances that you wish to take part in equivents, press the 'Save' button.
Your chosen appliances will now appear at the bottom of the 'Manage' tab.
Congratulations you are now set up to participate in equivents manually!
Click here to find out what to do to register your manual participation in an equivent.
TIP: You can add, remove or change your chosen appliances by selecting the 'Edit Appliances' button that appears under the 'Manual Appliances' widget and ticking or unticking the relevant appliances and saving your choices again.