You will only need to opt into advance notice and National Grid DFS events.
How do I opt-in to equivents?
No notice events
Unless an equivent is an event is an advance notice equivent or run as part of the National Grid Demand Flexibility Service (DFS), then there is no need to opt-in in order to take part.
Instead, if you have a compatible smart meter with half-hourly data, all you need to do is to make sure that you reduce your energy usage and beat your forecast once you have received a notification to say that an equivent is starting.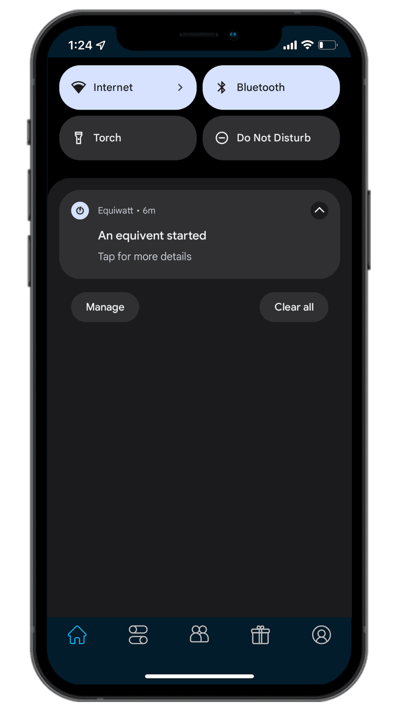 If you want to participate but don't have a compatible smart meter (or you want to make sure you are entered into the monthly prize draw) then you will need to indicate which devices you have switched off. To do this follow the steps below:
1) Open the app and select the manual participation widget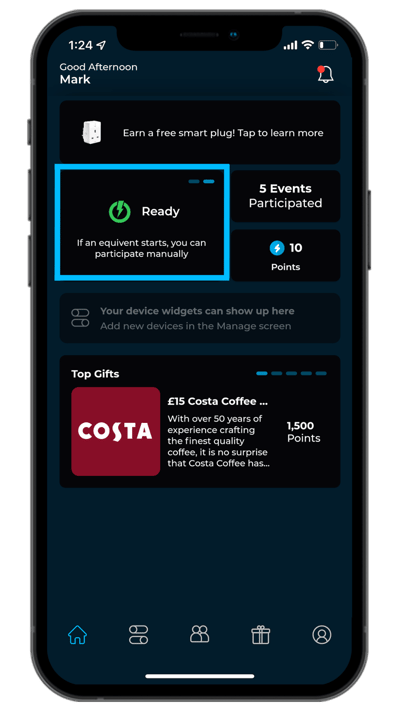 2) Select which appliances you have switched off and select the 'I've turned these appliances off' button to confirm your entry into the manual prize draw.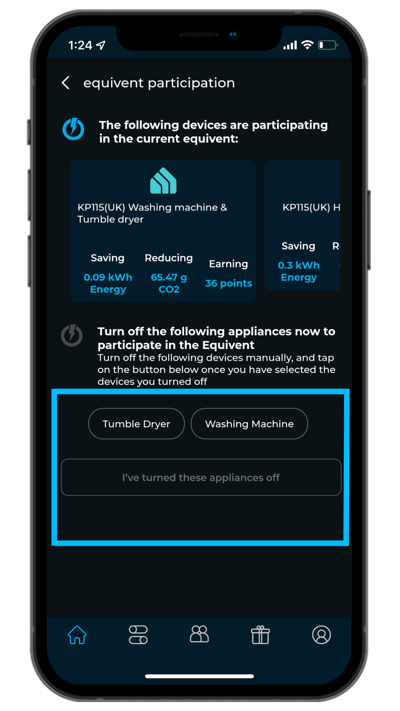 Advance notice / DFS events
When we run an advance notice equivent, you will receive a notification via the app ahead of time, informing you when the next event will be. The amount of notice will vary but we will try to let you know at least the day before.
PLEASE NOTE: You will need a smart meter connected to your equiwatt account and half-hourly data available in order to take part in advance notice equivents.
To take part in the equivent, you will simply need to tap the notification and opt into the equivent via the in-app pop-up that appears when you log in to your account.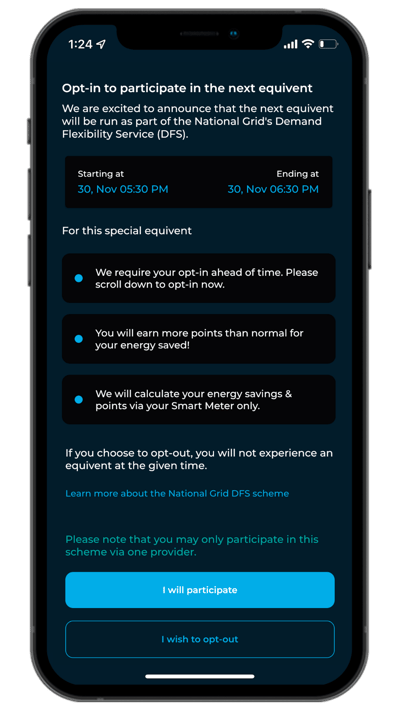 If you can't take part in the event or the timing is inconvenient, simply select the opt-out option in the pop-up.
Once you have opted in, you will see a confirmation message and the time and date of the upcoming event on the home screen of the app, just in case you need a reminder.