Yes, both you and your friends can earn rewards through the Equiwatt Referral Scheme. Simply invite 5 friends to sign up using your unique 4 digit code to unlock your rewards.
How does it work?
The Equiwatt Referral Scheme is open to any Equiwatt user and provides the opportunity to earn 1500 points when five referred friends download the Equiwatt app, create an account and connect a compatible Smart Plug. Each referred friend will also receive 250 bonus points on successful sign-up.
To take part in the referral scheme, users must go to the community tab within the Equiwatt app and invite five friends to join the Equiwatt community by clicking on the 'Share Invite' button.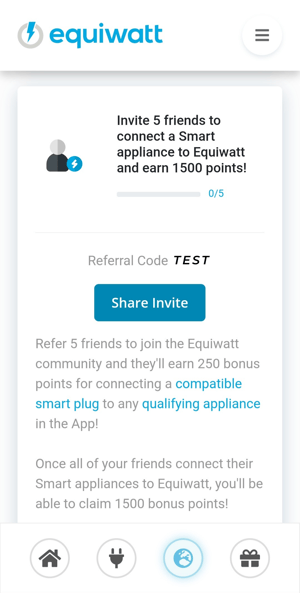 Once you click 'Share Invite' you will be able to share the invitation with your friends via your chosen platform (e.g. WhatsApp, Facebook, Twitter, Email etc.). Each invitation includes a four-digit referral code which must be entered on the 'create account' page by your friends during the sign-up process. That way, we can make sure that a referral counts towards your referral total of five.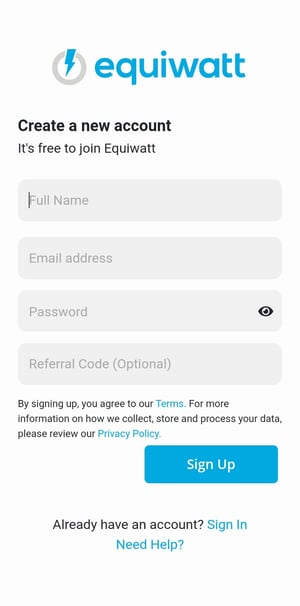 Once one of your friends has signed up to Equiwatt using your referral code and connected a Smart Plug, you will receive a notification on your phone and it will be logged in the progress bar in the community tab.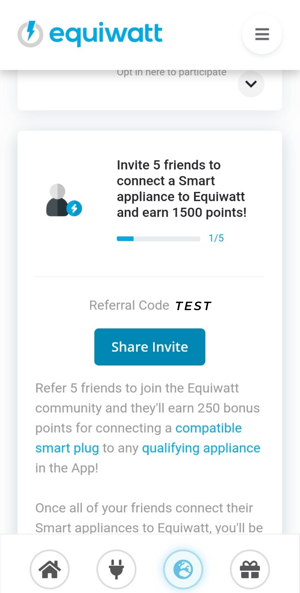 Once you have five confirmed referrals, the progress bar in the community tab will turn blue and the 'Share Invite' button will now say 'Claim Reward'. To redeem your points simply click the 'Claim Reward' button. The Equiwatt team will run a check to confirm that all referrals have connected a Smart Plug and are in line with the scheme's terms and conditions.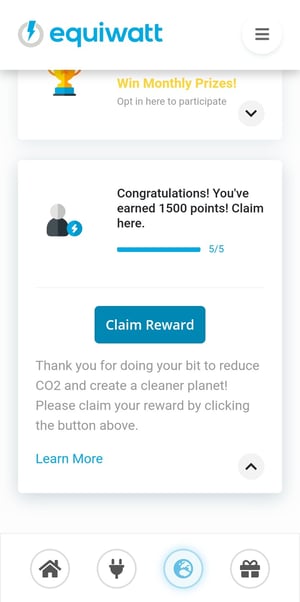 Once the referrals have been verified, you will receive an email (and/or) notification informing you that your points have been added to your account.
Full terms and conditions can be found here for the Equiwatt Referral Scheme.