Yes, both you and your friends can earn 1000 points through the equiwatt Referral Scheme. Simply invite your friends to sign up using your unique 4-digit code & participate in equivents to earn your rewards.
How does it work?
Refer friends and family to download and sign up to equiwatt and earn 1000 points (worth £10) each when they participate in an equivent and earn their first points for saving energy and CO2 at home. We will also plant a tree on your behalf for every friend that signs up with your code when they connect a compatible smart meter and earn their first points from taking part in an equivent.
What do I need to do?
To take part in the referral scheme, visit the community tab within the equiwatt app and select the 'Referral' button near the top of the screen.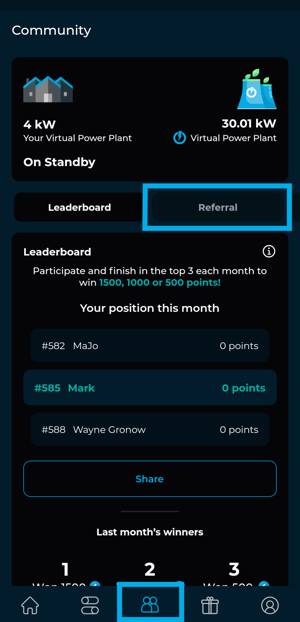 On this page, you will be able to invite your friends and family to join equiwatt as well as track who has signed up and how many points you have earned via referrals. You will also be able to see how many trees equiwatt have planted on your behalf as well as how many the equiwatt community have planted overall.
Once you click 'Invite friends' you will be able to see the below screen, which provides the details of the referral scheme and the points on offer. Once you select the blue 'Share Invite' button, you will be able to share the invitation with your friends via your chosen platform (e.g. WhatsApp, Facebook, Twitter, Email etc.).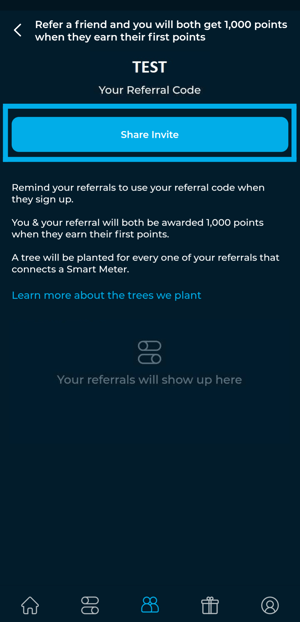 Each invitation includes a four-digit referral code which must be entered on the 'Register' page (see below) by your friends during the sign-up process. We can then make sure your referral points are awarded when your friend participates in an equivent and earns points for the first time.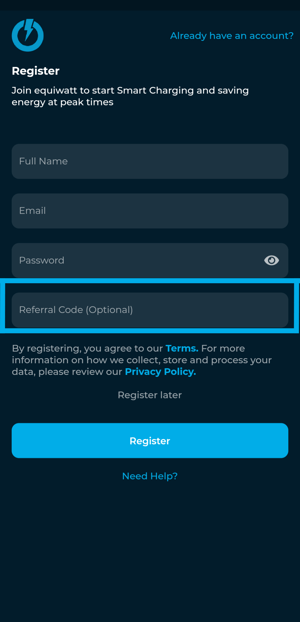 Once one of your friends has signed up to equiwatt using your referral code and earned their first points, you will receive a notification via the app to your phone. Your 1000 bonus points (worth £10) will be automatically added to your account and your friend will automatically receive their 1000 bonus points too. Your friend's sign-up will also be logged in the community tab so you can keep track of which of your friends have signed up and earned their first points with equiwatt!
Full terms and conditions can be found here for the equiwatt Referral Scheme.